Spotlight on Liv Oster (I)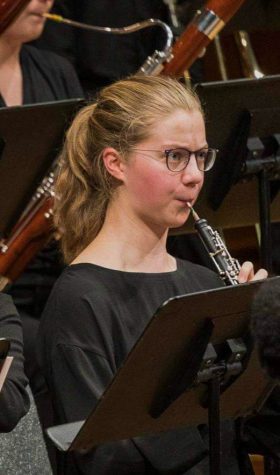 If we were back in school, you might catch oboist Liv Oster (I) practicing in the band room for an upcoming performance. A dedicated musician, Oster has been playing the oboe since third grade, and she is a member of both the Symphonic Band and Wind Ensemble at school. Outside of school, she is a member of both the Boston Youth Symphony Orchestra (BYSO) and Continuo, a student-run group that focuses on outreach through music.
One of Oster's greatest accomplishments is the opera she performed with the BYSO, called Aida. She played the primary part in the second and third acts of Aida, which she describes as having "some of the most beautiful and delicate oboe solos in all of opera repertoire."
Through Oster's dedication to the oboe, she went to the Boston University Tanglewood Institute last summer, where she trained under musicians from the Boston Symphony Orchestra. This was "an incredibly valuable experience" for Oster, as she was a part of an oboe seminar and could focus on the fundamentals of oboe-playing.
While participating in this program, Oster says that the principal oboist of the Boston Symphony Orchestra "provided the invaluable advice to 'just show us that you can do something well, even if it's not the most complicated thing,'" and she believes this advice can be useful for everyone.
The oboe is no easy instrument, however, as oboists have to make their own reeds. Reeds affect the player's tone, pitch and response. They are crucial to a musician's sound. Oster says that to "support the artistic goals" of her instrument and music, she still needs "to figure out […] how to consistently make reeds," which is an ongoing challenge.
Oster enjoys how "oboe, and music, more generally, can bridge so many different elements." She is a musician who continues to set a higher standard for herself and ceaselessly works to improve her performance. With her oboe, she combines art, craftsmanship, technical aspects and academic pieces, which she believes is  "endlessly fascinating."
If you are interested in picking up an instrument, Oster encourages you to "go for it!" Orchestra is an impossible experience to recreate. As for musicians looking to improve, Oster recommends "listening, listening, listening and more listening" to artists you enjoy the most in order to improve your own playing. To her, music combines both technicalities and creative expression, but when it comes down to it, it's fun and truly an experience like no other.