The One Acts Zooms Past Challenges
Each year at Boston Latin School, students and faculty look forward to the One Acts, a series of three performances that usually takes place in the Black Box. It has been an unprecedented year, but to the delight of those at BLS, this highly anticipated event will not be canceled.
On November 20 and 21, BLS Theatre plans to present its first virtual One Acts performances.
The One Acts serves as an opportunity for sixies, eighth-graders and freshmen to act and for juniors to direct. Although this year's show will be over Zoom, the performances will be live and will still have the same energetic spirit. As usual, there will be three comedies, each performance comprising a single act. This year, the titles of the One Acts are Help Desk, Brief Interviews with Internet Cats and History of the World on a Budget.
Help Desk, directed by Ian Wright (II) and Suzanne Semann (II), is the first play on the program. It features the comical experiences of ringing a call center for an answer to everyday problems, while those behind the desk offer unhelpful advice.
Gwen Trueblood (II) and Haley Regan (II) direct Brief Interviews with Internet Cats, a play in which a talk show host converses with cats from viral cat videos.
History of the World on a Budget, directed by Sam Ringrose (II) and Cameron Elwell (II), presents a humorous, economic approach to the past and present.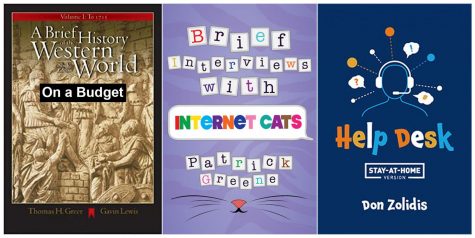 Preparation for the One Acts began as early as May for Ringrose, who wrote History of the World on a Budget himself. He edited the script throughout the spring and summer and is eager to watch his play brought to life.
Now that actors have been cast, students who are a part of the One Acts are to attend virtual rehearsals every Tuesday and Wednesday after school. Aside from supervising actors and ensuring that rehearsals run smoothly, the directors of the One Acts realize that BLS Theatre's virtual presence this year will mean that there is a lot more to deal with.
Elwell says, "The hardest part will be making sure everything runs smoothly with lighting, backgrounds, costumes, physicality and other issues that will be much harder to work out remotely."
As for Ringrose, the most daunting task is virtual directing. From casting to the performance itself, almost every aspect of the One Acts will be novel. Although everyone involved with the One Acts will face many challenges, Ringrose recognizes that there will be some advantages of the actors' new platform.
"When you're in person, you're often stuck on a stage, and you have to use what you're given to act with. But when you're at home, you have a lot more possibilities," Ringrose says. He adds that the One Acts crew can experiment with sound and lighting in ways unavailable to in-person productions.
Having been a part of BLS Theatre since seventh grade, Elwell still finds a lot to look forward to. He is grateful for his opportunity to direct this year, excited to interact with theatre newcomers and work with his friends on the One Acts.
"It is so rewarding to see a whole play come together, and to be the director of said play is probably ten times more so," he says.
Former One Acts performer, Maia Frost (III), plans on watching her fellow underclassmen step into her shoes. "The thing that I loved most about doing the One Acts was making friends with a new community of people," she reminisces, "so I'm most looking forward to being able to recognize the new friendships […] that were made while the seventh through ninth graders work together."
Ringrose agrees with this sentiment. He first appeared in the One Acts as a freshman and is happy to guide his younger schoolmates through the sometimes overwhelming immersion into the world of theatre. Although Ringrose anticipates directing rehearsals to be just as difficult as writing the script for History of the World on a Budget and casting its actors, he explains that it is all worthwhile.
"As a director and also as a writer, it's really rewarding to be able to see something that requires so much work and coordination come to life, and it all culminates into something really amazing."