Crossing New Paths with the XC Team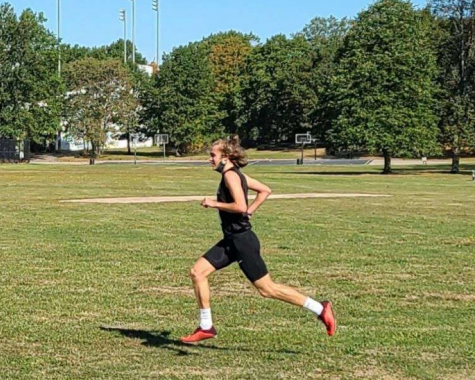 On October 3, Boston Latin School's cross country team had their first meet this season against Cambridge Rindge and Latin School at Franklin Park under the new modifications set by the Massachusetts Interscholastic Athletic Association (MIAA).
The girls' team had an impressive win by 23 points with Rose Cusack (I), Sophie Ahearn (II), Emma Walsh (IV) and Rebecca Hein (IV), placing second to fifth place, respectively. The boys' team had a close meet, losing by just one point. Some noteworthy performances were made, however, by Thomas White (I), who placed first, and Joseph Jackson (I), who placed third. 
Jackson comments, "Although we lost the meet, it was a good performance by everybody considering it [was] the first meet of the year." Many of the runners share a similar sentiment as adjusting to the new modifications has not been easy for the cross country team.
One rule implemented by the MIAA is wearing masks during both practices and meets. "We must keep masks on when around the whole team and try to keep them up as much as possible when we are around our specific running pod. We have to trust each other to follow the rules, which can be hard, but it is important when it means keeping everyone safe," says White. Cross country is known for its athletic rigor and long-distance courses, so wearing masks during a 5K can make it challenging to breathe and has been a significant change for these athletes.
A new guideline that has changed the dynamic of cross country this season are pods. Pods are groups of five to 10 runners that have similar training paces and workouts. They are consistent during both meets and practices to minimize contact. Not being able to run and build friendships with teammates is a struggle for most of the runners.
White reminisces on a goal the team had last season. "The upperclassmen prided themselves on getting to know all of the younger runners, such as sixies, and this year has been harder since they are not in our pod."
As a result of these limitations, they have found it challenging to push themselves at a meet without the encouragement of their peers. Running isolated from others and without the sound of your friends and teammates cheering next to you and along the sidelines can dishearten the runners.
Samantha Everett (I) says, "Fewer people are running with us so you could be running alone, which is harder than if you're being pushed by your teammates or other teams." 
Despite these hardships, this resilient team of runners has pulled through with high spirits. These athletes continue to work on self-improvement through their training and strive to be in top-notch shape. Every runner is extremely grateful for the privilege of having a season, unlike the many other fall sports that had their season either canceled or postponed.
White expresses that the team is "lucky enough for our sport to be cleared and to happen, and so any complaints I have can be overshadowed by my gratitude to be able to compete this last season."
Leave a Comment