The Push For AP Graphic Arts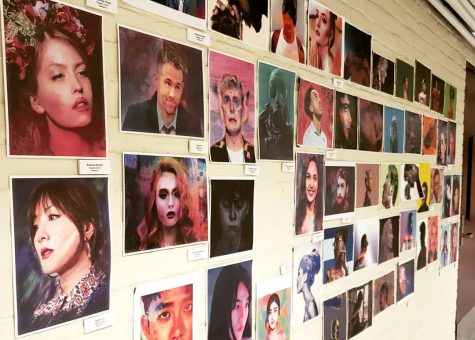 During the 2018-2019 school year, a few juniors and sophomores at Boston Latin School petitioned for the establishment of an AP Graphic Arts class to be available for juniors and seniors in the 2019-2020 school year. Now an important subset of visual communications, graphic arts involves developing the skills of illustration, typography and photography.
Formally called AP 2-D Art and Design by the CollegeBoard, AP Graphic Arts requires a portfolio to be submitted in early May that includes digital images of one's work, online commentary on the work and physical artworks. Similar to the requirements for AP 3-D and AP Drawing, each of the three sections submitted contributes to the final portfolio score, which is on a five-point scale.
The AP Graphic Arts course differs considerably in the breadth of material taught from the regular Graphic Arts course currently offered at BLS, with the inclusion of photography, collage, and printmaking.
As Generation Z, the expectation in the workplace is that we have technical experience that others can rely on. AP Graphic Arts would serve as a healthy and creative outlet in the stressful BLS climate while also allowing students to build essential computer and software skills.
Leah Prodigalidad (II), who led the push for the formation of an AP Graphic Arts class for this 2019-2020 school year, says, "I think that AP Graphics would be super beneficial, and the course isn't limited to benefitting people who want to pursue art. The use of the Adobe software is super important in the business aspect as well, at least more towards marketing." Such a class as AP Graphic Arts can cultivate the needed knowledge that can translate well into many careers, including technology, advertising, business and design. 
The formation of this class was also supported by teachers and administration, but unfortunately the effort ultimately fell through. Prodigalidad comments on the difficulties she encountered when trying to establish the course: "As for the AP Graphics course petition, I did it because I wanted to pursue an art major in college and I wanted to expand my portfolio […] [however], less than 10 people wanted to sign up for the AP course which was a little discouraging." 
AP Graphic Arts proponent Karen Mai (II), states a different problem for implementing AP Graphic Arts, "It is also hard to have just an AP Graphic Arts course because of the computers; they're not the best." 
Mai still has hope, however, saying, "If enough sophomores this year sign up for AP Graphic Arts and expressed interest during the course election times for spring then [it] most likely could happen next year."
While the AP Graphic Arts push failed for this year, it is something to think about as our world becomes more digitized and demands that its workforce have the advanced technical experience to contribute to it. 
Leave a Comment