BLS Beyond the Avenue: April Break Trips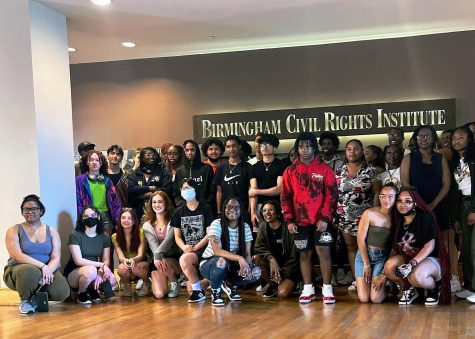 Atlanta
The African American Studies class, led by BLS history teacher Mr. Brian Smith, jetted off to the South to visit prominent historical sites relating to the Civil Rights Movement of 1955-1964, exploring Atlanta, Georgia, Birmingham, Alabama and Montgomery, Alabama.
This trip was in collaboration with Boston Latin Academy and Dearborn STEM Academy, with a group totaling about 50 students and teachers.
Students visited numerous locations, such as Stone Mountain Park in Atlanta, which features a monument with the names of Confederate leaders carved into its side, and the 16th Street Baptist Church, where four young girls were killed in a bombing that stirred the nation.
One of the most notable places the group visited was the Legacy Museum in Montgomery, which showcases a collection of compelling art pieces from the Civil Rights Movement.
Trip participant Melanie Guilderson (II) shares, "Seeing these things in real life just makes you process and understand things in a completely new and emotional way."
In addition to these dense and powerful scenes, students visited aquariums, malls and restaurants that not only gave them a taste of Southern life, but also allowed them to process the new environment and bond as a group.
Mr. Smith adds, "It's not just what you're reading in a book; it's not just a film that your history teacher puts on, right? These are real people, real stories, real ancestors." 
Executing such an extensive trip is complicated. As with any school trip, gauging student interest played a major part in organizing the itinerary. 
In terms of logistics, however, Mr. Smith admits that "reaching out to places in Atlanta and Alabama and trying to see if they could accommodate 50 people just showing up is the trickiest."
 He ultimately aims to leave students with a conviction to act against the racial injustice that remains prevalent today as a result of the past.
Guilderson echoes this sentiment, hoping that this opportunity will be open to all students, so that "[they] would all understand each other a little bit more."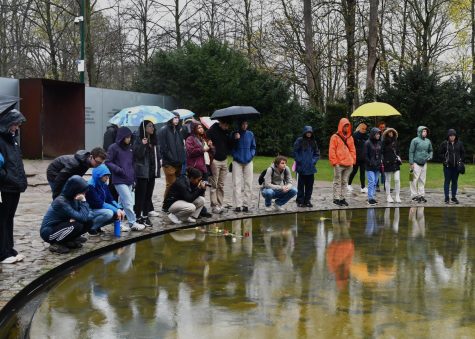 Eastern Europe
BLS juniors and seniors embarked on a Facing History and Ourselves Eastern Europe trip, learning about the horrors of World War II by exploring Germany, Poland and the Czech Republic. This trip, guided by Facing History teacher Ms. Judi Freeman, spanned 13 days and eight different cities.
"There is so much to talk about when you are talking about the Holocaust, and so the scope of everything to cover was one of the challenges," explains Assistant Head of School Ms. Danielle Murray, who helped coordinate and chaperone the trip.
Students also had the opportunity to tour a variety of places and update a blog to document each day.
The group first arrived at Berlin, Germany, where they visited museums, neighborhoods, memorials and bomb shelters that brought them into the lives of a wide spectrum of people. Students learned about the history of these places and how the cities grapple with their pasts in the present.
Afterward, they visited four cities in Poland: Kraków, Oswiecim, Lublin and Warsaw. There, the students visited concentration camps and mass grave sites at Płaszów, Auschwitz, Birkenau and Majdanek.
Jolie Bellerand (II) shares that Majdanek, a concentration camp in Lublin, "was extremely haunting and I will always remember it."
In Warsaw, the students explored the concept of resistance during the Holocaust. Having arrived on the 80th anniversary of the Warsaw Ghetto Uprising, the group joined a celebration of Jewish resistance by donning paper daffodils. They also visited the Jewish Historical Institute, which housed an underground archive of documents from Jewish people living in the Warsaw Ghetto, and the Warsaw Zoo, where people were smuggled out of the Warsaw Ghetto.
On the last leg of the trip, they headed to the Czech Republic, stopping by Prague and Terezín. There, they uncovered more about the lives of prisoners during WWII and the nature of Nazi propaganda and its effects.
From trying local specialties, including pierogi and schnitzel to creating friendships with German high school students from the Reuchlin Gymnasium in Ingolstadt, Germany, students took advantage of their downtime to explore the culture of central and eastern Europe and reflect on their journeys.
Ms. Murray summarizes the purpose of the trip: "You can look at numbers and you can look at charts and maps, but it is that human element that helps transform people.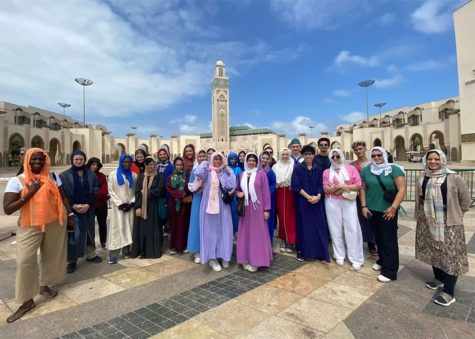 Morocco
This April break, a group of students from Classes I, II and III traveled to Morocco for ten days, where they explored its rich cultural history.
Boston Latin School history department Program Director Mr. Thomas Kennelly and English teacher Mr. Kamissa Barry led this trip alongside their partner organization Council on International Educational Exchange.
The planning of this trip was hinted at several years ago. During the pandemic in 2020, Mr. Kennelly's World History students completed a virtual exchange with students from a high school in Morocco. Mr. Kennelly and Mr. Barry also led a trip to Kenya five years ago; since then, they have talked often about going on another trip to Africa.
For the first several days, students stayed in the homes of families in Morocco's capital, Rabat. There, students traced Morocco's history from antiquity to the present day by attending a civilization tour.
In addition to these tours, students engaged in hands-on activities with bamboo, pottery and mosaics with local artisans in Oulja.
"We didn't just go as tourists, we went as students. For example, in that mosaic shop, we didn't go to just see stuff and buy stuff; we went to learn about the people," comments Adi Acosta (III), a participant in the Morocco trip.
In the next few days, students departed from urban areas of the city to explore Morocco's geographical diversity, hiking the High Atlas Mountains from the city of Marrakech and walking from the Rif Mountains to Chefchaoune.
Toward the end of their trip, students visited the Hassan II Mosque in Casablanca, where they engaged in intercultural discussions and activities with local Morrocan high school students. Students also had the chance to experience Moroccan culture by receiving henna hand designs and wearing traditional Moroccan attire.
Mr. Kennelly advises, "All BLS students should try to participate in either of these trips or a summer travel program because they are unique, [once in] lifetime opportunities to go someplace you would never go on your own with your peers and teachers and have an eye-opening experience."