Sound of Seul: Mainstream Sellout by Machine Gun Kelly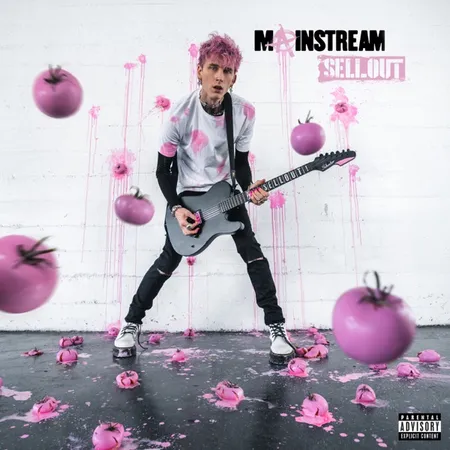 March 25, 2022
Genre: Pop Punk
Tolerable Songs: "born with horns," "ay!," "fake love don't last"
Rating: 0.5/10
We may only be a quarter of the way into the year, but with Mainstream Sellout, Machine Gun Kelly (MGK) has already released one of the most uninspired and unbearable albums of 2022. With Kelly's grating vocals and vacuous lyrics overlaying generic pop-punk production, the 40-minute listening time could be spent better doing virtually anything else.
To be fair, the album starts off with a hint of quality: opener "born with horns" begins with an instrumental that could have led to something interesting. MGK's subpar singing and cliché lyrics about alienation, however, chip away at this. Though the song is by no means incredible, it still leaves the listener with a glimmer of hope that "this thing can't really be that bad, right?" Wrong.
Following the opening track, the rest of the album teeters between the unoriginal and the downright unlistenable. Collaborations with Lil Wayne and Bring Me the Horizon's Oli Sykes fall flat before a run of arguably the three worst songs on an album full of terrible ones. The title track fails at self-aware defiance of MGK's detractors before an irritating collaboration with Blackbear furthers the decline in quality. And then, of course, there's "emo girl," whose vapid, repetitive chorus and trope-heavy lyrics justify the criticism it has received.
A few songs later in the album demonstrate slight signs of quality, but they do little to save it overall. Although "ay!" relies on a displeasing, pitched-up vocal sample in its chorus, it is at least fresh, with the switch to laidback trap production and a decent Lil Wayne verse providing a pleasant break from Kelly's earlier monotony.
Iann Dior's performance on the following track, "fake love don't last," is also a genuinely interesting one that, combined with a catchy chorus, makes it by far the most tolerable track on Mainstream Sellout. This promise, however, does not continue until the end, and MGK's attempt at a ballad on the closer "twin flame" instead becomes a sappy stew of self-loathing that an unnecessary guitar crescendo does little to bolster. After making it through, the listener can finally breathe a sigh of relief.
If there is anything that Kelly deserves credit for, it is his ability to generate attention and sales by appealing to a certain subset of fans while drawing widespread criticism from others. This tactic has certainly paid off as Mainstream Sellout debuted at No. 1 on the Billboard 200, proving the age-old adage that no publicity is bad publicity. Don't get drawn in by the drama, though: this album is not worth anyone's time. Until it fades into irrelevancy, Mainstream Sellout will remain a stain on 2022's generally positive musical track record.