Spotlight on Owen Jin (II)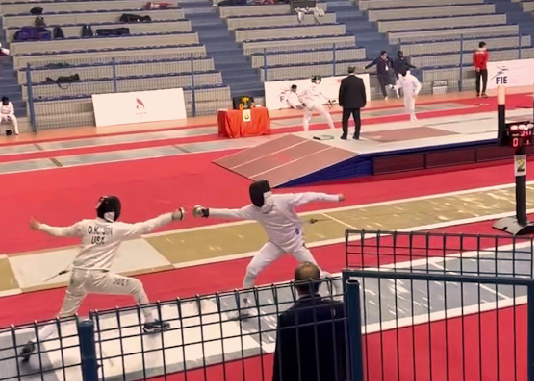 Although it receives little recognition, fencing is arguably one of the most difficult sports. It is the only combat sport with no weight classes and is hard to understand without context. To summarize, the objective of the game is to use your weapon — either the foil, épée or saber — to strike your opponent whilst avoiding being hit yourself.
Owen Jin (II) knows quite a bit about the sport, as he has been fencing since seventh grade. Fencing competitively for three years, he has also won multiple regional golds in competitions such as Youth 14, Cadet and Junior. Recently, Jin led his team to a silver medal at the Junior Olympics, a national tournament. Most notable of all, he competed in the International World Cup.
When asked about one person who has helped shape him into the skilled fencer he is today, Jin is quick to respond, saying, "My father. He accompanied me to every competition I have attended since I started. There were times where we did not get along, but fencing really drew us closer."
Jin has thoroughly enjoyed his time on the BLS fencing team and has made a lot of lasting memories. "When I just started fencing at BLS," he reflects, "there were many upperclassmen that continuously helped me." Unfortunately, due to his busy fencing schedule, Jin regrets that he is unable to attend all of the practices, but still remembers his favorite group huddle at the State Championship, right before the COVID-19 pandemic hit.
This January, Jin traveled all the way to Bahrain to represent the United States at the fencing World Cup. He recounts, "My trip was extremely exhausting. Not only were all of the opponents tough, but the procedures for traveling to Bahrain were a hassle. After I arrived there, we were immediately sent into isolation while awaiting our COVID-19 results."
The competition itself, however, was more rewarding than he expected. Pitted against a top-eight Olympic finisher, he started off, understandably so, extremely nervous. Although he did have a slight idea of his opponents' fencing styles, there was minimal to no time to adjust to them. As a result, he took two losses out of the six matches during the round-robin stage. He was able to turn it around, however, and made a vitalizing comeback to defeat the bronze medalist of a previous Junior World Cup.
While he believes he has areas to improve upon in terms of performance, Jin is still very grateful for this experience and opportunity. He will definitely continue to be an athlete to watch as he prepares for his senior season with BLS next year.