BLS Halloween Costumes Hallow the Hallways
On October 29, Boston Latin School students showcased a copious collection of creative costumes at the second annual Mi- chael Giordano Halloween Costume Contest.
With the excitement of returning to school, BLS students and staff had the opportunity to witness and display inventive costumes–ranging from a hilarious Lunchable to energetic monarch butterlies–in the flesh for this year's Halloween costume contest.
The senior class officers decided the winners of each category based on various factors. Christian Leriche (I), Senior Class President, explains, "We chose the winners of each category because they really embodied what the category was. We noticed that every one of these candidates seemed to have a specific vision [and] portrayed that to the fullest extent."
The winners of this year's Halloween costume contest shone through with their craftsmanship, creativity and imagination.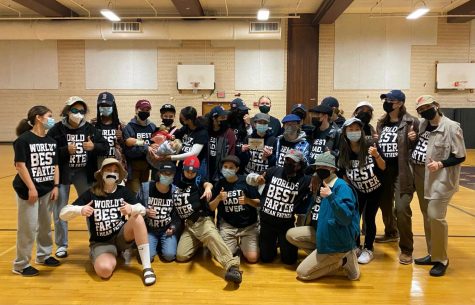 The cheerleading team took home the title for "Best Team" by dressing up as dads. They locked in their costumes with "#1 Dad" shirts, dad caps and "dad bod" bellies, which were made from pillows.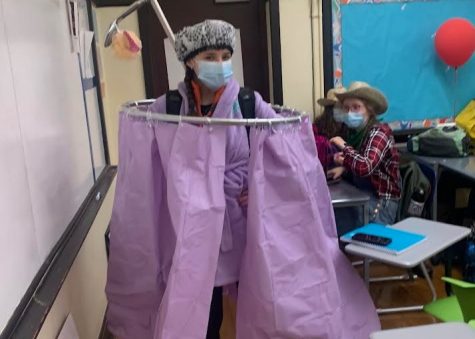 Charlotte Weeks (I) impressed many with her shower costume. It consisted of a shower curtain and a showerhead, with her standing in a shower cap and a robe.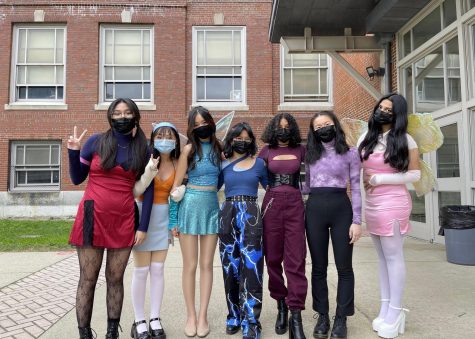 Janie Huang (II), Mymy Tran (II), Faria Zaman (II), Lily Do (II), Helena Huynh (II), Jenifer Bello (II) and Angela Guan (II) won the "Best Group" category as fairies from Winx Club. "[The costumes] allowed us to reminisce about our childhood. We believe we won because we didn't necessarily mimic the characters' outfits, and we incorporated our own styles," says Huang.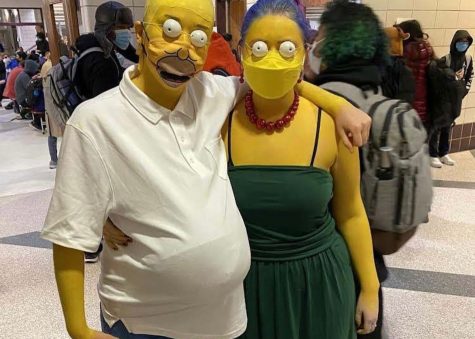 The winners for "Funniest Group" took home the win with their spookily detailed Simpsons costume. Maddie Pollard (I) and Caitrin McLaughlin (I) arrived at school with yellow body paint (and masks!) and scary goggles to resemble the spherical eye shape.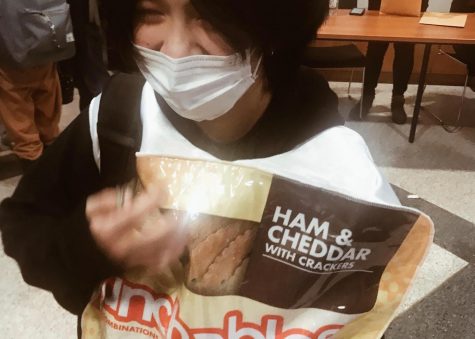 Eva Kelly (VI) won the"Funniest Solo" category with her Ham and Cheese Lunchable costume. Kelly believes her costume, which her mother suggested to her, won because it was funny and not typically what someone would dress up as.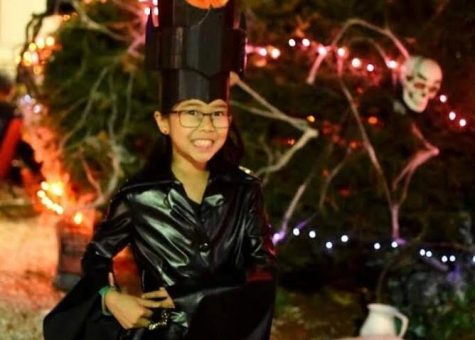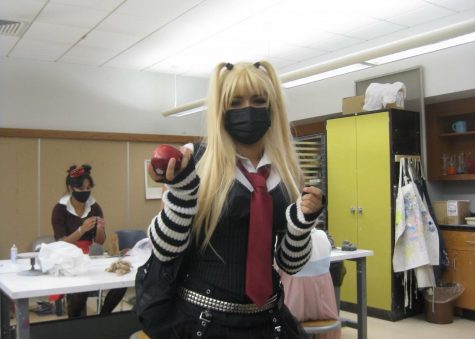 The winners for the "Best Solos" category were Mia Hosokawa (VI) as the Eye of Sauron from The Lord of the Rings and Andreya Evora (II) as Misa Amane from the anime, Death Note.
Hosokawa decided on the costume worn two years prior due to the school's restriction of non-face covering costumes. Hers was also homemade, like Evora. Both winners were recognized for their craftiness and creativity.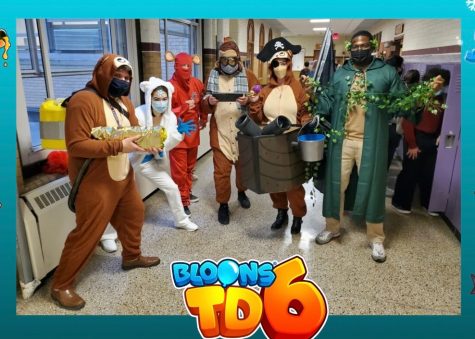 With costumes inspired by the video game Bloons Tower Defense, the team winning "Best Teacher Group" included Ms. Moguel, Mr. Gels, Ms. Foley, Mr. Howard, Mr. Spezzano and Mr. Brownell. They made a surprise appearance in the dining hall with their unique mix of comfortable onesies and props, respective to their chosen character.
"I found it interesting and generally easy to model and comfortable to wear while teaching," says Mr. Spezzano, dressed as Ninja Monkey. "Aside from the lack of a white belt and appropriate footwear, I believe it was a success!"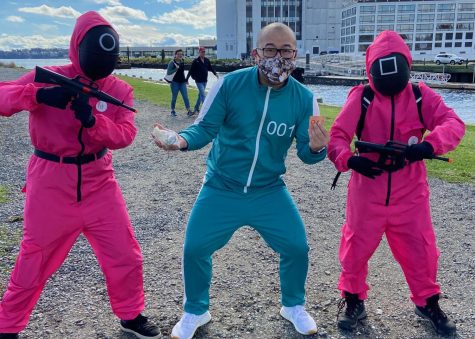 Mr. Zou dressed up as Player 001 (Oh Il-Nam) from the newly popularized Netflix show Squid Game. He colored his hair grey and wore a similar costume to the tracksuits used in the show to capture the character.
"A lot of students were so kind as to stop by and tell me how much they loved my cos- tume. I was delighted that I could brighten up their day," says Mr. Zou.
Last but definitely not least, teachers Ms. Kelly, Mrs. Long and Mrs. Arnold from the Lambda cluster dressed up as monarch butterflies. They went all out with wigs, lights and flowers. They were "flying" through the halls with music and amazing enthusiasm.