Do Your Part to Get Us Back to Normal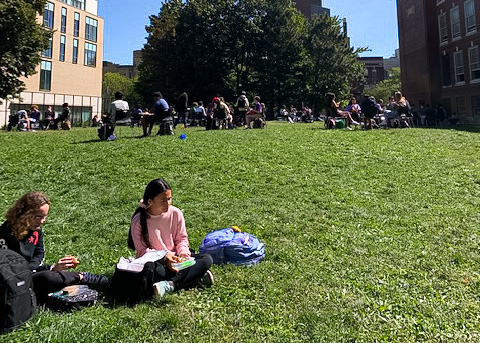 With school starting and COVID-19 cases still high, Boston Latin School's crowded staircases and close proximity continue to mirror some of the dangers of March 2020. As the new group of sixies, Class V students and Class IV B-sies join the building, the hallways are busier than ever. While the administrators are doing everything possible to keep all students safe, we as the students must ensure that we're all holding each other accountable so that our time at school is as safe as possible.
Since there are not any special procedures for students who may be returning to school after a long absence due to COVID-19, it can be hard to feel at ease throughout the school day. Luckily, with a donation of funds from the Elementary and Secondary School Emergency Relief Fund, administrators are considering hiring a full-time staff member specifically to address students who return back to school from long-term absences. This would help students get back on their feet after missing several days of school because of the pandemic. While close contacts are not required to stay out of school, if a student tests positive, administration is preparing to support students in whichever ways they may need.
Regardless of all the precautions administrators and faculty take to ensure that we can remain in-school, strictly following them, as the entirety of the student body, is the only way to guarantee our wellbeing — for example, making sure masks are always on correctly.
Athena Yee-Wadsworth (IV) is in support of using misdemeanor marks to discipline those who consistently defy the mask mandate. "It's quite obvious the difference between accidentally letting it fall and purposely not caring if it's not on correctly […] if they get more than two warnings, then just give them a misdemeanor. It's affecting the safety of students and teachers around them," she says. We can all remind each other to keep our masks up and over our noses and mouths. With social distancing no longer possible at all times, it is crucial to take accountability for both yourself and others.
Staying mindful of your close contacts is a key step. While there is already formal contact tracing, Head of School Rachel Skerritt explains, "[It] has a very specific definition by the Health Commission right now. […] It's 15 minutes, within six feet of one another, over 24 hours. However, Boston has omitted any masked interaction as close contacts." Making note of who you interact with, even while masked, can help fill this gap.
Head of School Skerritt recognizes, "[While] we obviously wish we could distance more, it would require us to not all be in the building at the same time." While new measures might seem overprotective, it makes it possible for us to stay safe as long as we're all responsible.
Sanjana Singh (I) gives her insights: "It is important to be mindful of [COVID-19] because as a community, we don't want to go back to remote learning because it would disrupt our learning, extracurriculars and lives at large." And so, each and every one of us must take up the responsibility of avoiding crowds, wearing our masks correctly and being mindful of social distancing when possible.