Spotlight on Gwun Yi Wong (I)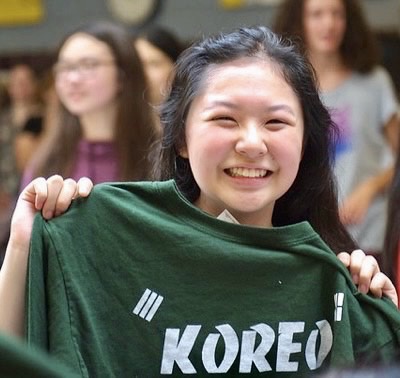 You've probably seen Gwun Yi Wong performing at Asian Night or practicing after school at Boston Latin School Koreo. Many might be shocked to learn that Wong didn't have any professional background in dancing, and she started dancing through the game Just Dance. When Wong came to BLS, she combined her interest in dancing with her passion for K-Pop by joining Koreo. She was inspired to explore different styles of dance such as jazz and was able to not only learn the choreographies which you would normally see in K-Pop but also those you would see at a professional dance studio. 
Wong joined Koreo in eighth grade, and now, as an officer of the club, she organizes and teaches dances. When she first became an officer in tenth grade, she gained another perspective as a dancer. She says, "You are not learning it from other people; you are learning it yourself, which was another difficulty […] You have to learn certain sections of the dance, teach it to 50 [to] 60 people at a time, […] making sure everybody looked good on the stage." There is one thing, however, that Wong regrets as an officer. She feels that because she was teaching more and fixing others' moves, she was dancing less herself. "Because you are more focused on teaching other people, you lose this skill of cleaning yourself and making sure you look good," she explains. 
Dancing has impacted Wong greatly. Overall, it has made her a happier person and allowed her to find her passion. Even though dancing first started as an excuse for exercising, Wong fell in love with it along the way. Through it, she has been able to learn about Korean culture and appreciate dance more: "You actually see the art behind it and the emotions that are conveyed, and so dancing, even through the video game, […] has made me realize that there's a lot of effort that gets put into making these choreographies."
Wong believes that music and dance are universal because they both can be used to share stories and ideas. They break language barriers and open up paths for communication across cultures. "[Dancing and playing music are used] to understand people on a level that is not necessarily through languages," Wong expresses.
Fellow officers share their regards for Wong. "I think she is very detailed as a dancer; she knows what looks wrong and what looks right. She has a good understanding of the moves, and she is very strict on herself when it comes to dancing," says Lily Do (III). Recalling the first time she meets Wong, she says,"[I thought she looked] very intimidating, but as I got to know her, she is very understanding and cares about the other officers and members, and I would go to her for advice outside of Koreo." Vy Tran (I) also comments, "She is an amazing dancer [and a] lovely leader; [also, she is] small but has a lot of energy [and] a lot of power. To be honest, sometimes I am scared of her [ability] when it comes to dancing."