Social Justice in Sports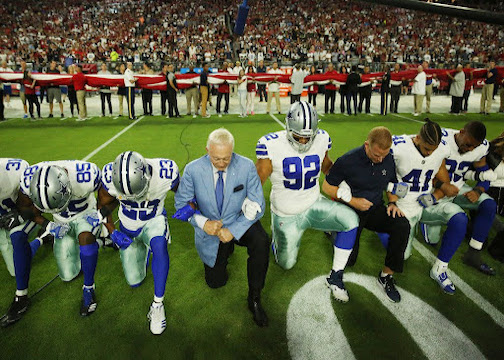 The atmosphere of professional sports is different, not only because the crowds are close to empty and everyone is wearing a mask, but also because many people are raising their voices and standing up to the injustices that occur outside the arenas.
Many athletes, teams and organizations are advocating for social causes, particularly racial justice. Starting at the beginning of their season, the National Basketball Association (NBA) and its players worked hard to make the message clear: racism is not tolerable. Throughout the previous season, all players wore personally selected phrases on their jerseys such as "Black Lives Matter," "Enough" and "How Many More."
NBA players are also individually taking action. When returning to play in the bubble last season, Milwaukee Bucks' point guard Jrue Holiday donated his remaining salary to Black-owned non-profit organizations and launched the Jrue and Lauren Holiday Social Justice Impact Fund with his wife.
Jeremy Lin, point guard of the Santa Cruz Warriors, also stepped up to raise awareness about the Asian-American racism he faces in the G-League and recounts his experiences of being called names such as "Coronavirus." Lin explains, "The world will have you believe that there isn't enough justice or opportunities to go around. […] But this just isn't true."
Players from the Women's National Basketball Association have also been using their platform for social movements. Earlier last year, Kelly Loeffler, who is the owner of basketball team Atlanta Dream, had objected to the League's actions of supporting social justice. She objected to the League's support of the Black Lives Matter movement by writing actions and messages on their jerseys. Loeffler says, "The truth is, we need less, not more politics in sports."
In response to her thoughts and actions, many players, including those on her own team, openly campaigned against her in the 2020 state Georgia elections, in which she was running. The team was also sold to a new group.
In the past, the National Football League (NFL) has received criticism and controversy for the actions it has taken to combat social injustice. A well-known controversy surrounds Colin Kaepernick's dismissal after the 2016 season from the San Francisco 49ers because he knelt during the national anthem in protest against racial injustice. Although not technically barred from playing in the NFL, many teams have turned him down to avoid upsetting donors and fans who are against what Kaepernick stands for.
In 2020 and 2021, as the fight for social justice has come to the forefront of discussion, the topic of Kaepernick has come up again. The NFL, though primarily its athletes rather than the League itself, has been very active in promoting the Black Lives Matter movement. That being said, many argue that Kaepernick should be allowed onto an NFL team because preventing him from doing so contradicts what the League claims to stand for. Paige Fitzgerald (III) says, "Considering the NFL's controversial past, they should be taking more action to fight for racial justice."
Although athletes continue to stand up against social injustice, it is also important to remember that this is not anything new. They have been using their platforms to fight for change throughout history, and they will continue to do so in the future. We should all look to the countless athletes and other activists who fight for equality.
As Kaepernick says, "With or without the NFL's platform, I will continue to work for the people because my platform is the people."