The Role of Chanukah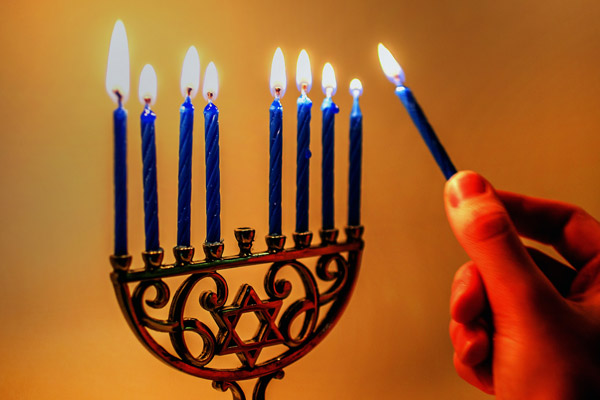 As America enters the holiday season at the end of another remarkably "un-wonderful" year, a public service announcement is more necessary than ever to address a widespread myth about Chanukah.
No, Chanukah is not the Jewish version of Christmas.
Contrary to popular belief, families do not travel to visit each other for the occasion, kids do not traditionally get gifts, parents certainly do not take time off from work and the eight nights of light are not even considered holy. More than anything, the festival is a "commemorative holiday," explains Ms. Judi Freeman, who teaches Facing History and is Jewish. In fact, its dictionary definition begins with "a lesser Jewish festival." Ash Albert (III), who was raised as a Lubavitch Jew, sums up its religious significance: "In all actuality, it's a pretty unimportant holiday."
Those less knowledgeable of Judaism, however, are likely to have just the opposite impression of Chanukah. Many believe it is one of the most, if not the most important Jewish holiday and make sure to acknowledge it when it starts. And who can blame them?
Brooks Gillespie (I) confirms, "I knew that [Jews] didn't have one big holiday, but I thought it was fairly important." American society really makes a fuss about Chanukah every December, especially compared to much more significant Jewish holidays like Rosh Hashanah, which tend to pass without a comment. This discrepancy reveals much about the unique role Chanukah has in America and can be explained by another factor: Christmas, the most popularly celebrated holiday in the U.S.
Christmas in America, as everyone knows, is a distinct phenomenon; the Christian holiday has in many ways transcended its religious roots and become a complete cultural sensation: the lawn blow-ups, decorations, cards, trees, gifts, reindeers, cookies — all of these, wholly irrelevant to the birth of Jesus, are instead a celebration of winter (or else Hallmark's business scheme).
The holiday season, as we know it, holds a strong sentimental value for many Americans who grew up celebrating Christmas and provides a welcome source of cheer in what would otherwise be the doldrums of winter. Because of this, Christmas is widely celebrated not just at home but also in shops, at work and in schools, which presents a sticky issue to those who still wish to be inclusive: how does one celebrate a holiday of clear Christian origin without excluding those of other faiths?
The answer, it seems, has been to lump Chanukah and Kwanzaa into holiday celebrations ranging from office parties to holiday concerts in order to create the appearance of secularity. As companies have also commercialized the festival by associating it with Christmas, it is clear why many Americans have gotten the wrong idea about Chanukah.
The widespread misconceptions of the holiday have had an impact on its actual role in America. Just like Christmas, Chanukah has by now gained some (albeit much less) cultural elements that reach beyond its original religious value, such as exchanging gifts or holding parties. Notably, Boston Latin School's Jewish Culture Club holds an annual "Hanukkah Fest" every December open to the entire school, but none for the High Holidays or Passover.
Because of this trend, Chanukah has, in certain ways, gained cultural parallels to Christmas — although the two holidays' religious meanings still hold next to nothing in common.
Ms. Freeman explains how, similar to Christmas, there is even a movement to combat Chanukah's commercialization and increased prominence: "There are also Jews who feel like, 'we gotta get back to a proportionate focus on Chanukah given its minor status.' If you go to countries around the world, Chanukah is not a big to-do."
In fact, Jewish people have sometimes brought about this association historically. "The combination of self-preservation and the desire to keep our own faith alive led to Chanukah becoming parallel to Christmas — we've written it to be our major winter holiday in order to not seem out of place come time for the holidays," says Albert. It is worth noting that more devout Jews may not experience this cultural parallel as much, and on that note, the public service announcement still stands.
PSA: these two holidays are not equivalents and should not be treated as such. The pervasiveness of this myth, however, whether intentional or accidental, has brought that fiction closer to becoming a reality.