Spotlight on Jake Harrison (I)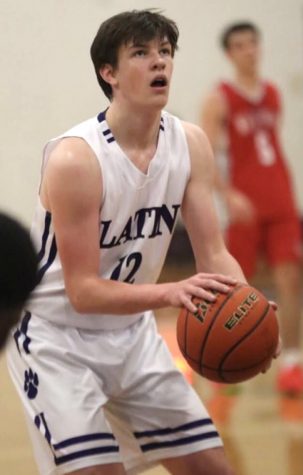 Jake Harrison (I) has proven himself to be one of the most impressive athletes in both Boston Latin School and the state. BLS boys' basketball's star winger was ranked 23rd in the state for his age group due to his outstanding performance this season with A Step Ahead Hoops in the Amateur Athletic Union (AAU).
Harrison talks about what it takes to perform at such a high level on the court. During quarantine, Harrison took advantage of his free time, explaining that he "ran five miles a day for about a month and worked out almost everyday adding around six pounds of muscle."
He describes his AAU team as a talented group of players who all have the ability to score 20 points a night. Harrison took advantage of this to work on his defense by guarding the opposing team's best player almost every game. Harrison describes his role on the team.
He says, "My rebounding and passing really helped out our team creating fast breaks and easy baskets in the half-court."
Harrison's defensive role on his AAU team differs from his primary role as Boston Latin's most lethal offensive weapon. As one of the starting five, Harrison carried the team to the quarter-finals.
Harrison had a phenomenal junior year season. He states, "Throughout the 2019 to 2020 season, we played 24 games where I averaged 19.6 PPG [points per game] and 10.5 RPG [rebounds per game]. My field goal percentage was 56.8 percent, including 69.7 percent from 2P [2-point field goals] and 31 percent from 3P [3-point field goals]."
With college ahead, Harrison said he is in contact with schools to play basketball in college, as he is an extremely well-rounded player for both his AAU team and BLS. Harrison says, "For college, I have visited a lot of Division III colleges, and I am being recruited by all the schools I visit. I am looking to commit before March 1."
As of right now, the basketball season is on and tryouts are in mid-December. Harrison finished on a great note in his past BLS seasons, and he is optimistic about the upcoming season. He expresses, "I'm definitely hoping for a senior season and believe we would be very very good. Just trying to get better everyday."
Hopefully, Harrison can finish off his superb basketball career with the Wolfpack this upcoming season.