Overseas Goes Interweb: Why Virtual Exchange Programs Are Still Worth Your Time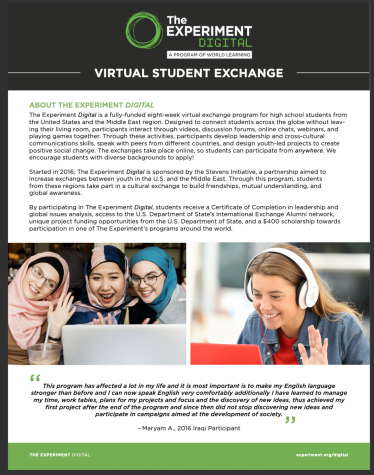 In recent years, Boston Latin School has conducted several virtual exchange programs that have bridged the gap between geographically distant classrooms all over the world. While these programs may often feel like poor substitutes for the real deal — that is, actually travelling abroad — their prevalence within the past months has shown that they are still well worth the time.
With all possibility of international travel being thrown out the window, virtual programs like The Experiment Digital (TED) and The Global Civic Obligation Initiative have become especially popular in schools around the world. Through these programs, students have the opportunity to communicate with students from other countries, promote cultural exchange and learn about new ways of life.
In day-to-day school life, students rarely ever have the opportunity to communicate with peers from different regions around the globe and learn about other cultures beyond what is within their own history textbooks. Initiatives like TED fill this gap by allowing students to meet others, gain new perspectives on controversial topics and immerse themselves in a novel and multicultural environment. TED is an eight-week summer program where youth from Algeria, Iraq, Yemen and the United States interact through Canvas with an adult facilitator to ensure healthy conversation. Students discuss their daily lives, compare cultural norms and learn about different countries' traditions and values.
Karen Mai (I), a participant in TED, recalls a powerful conversation she had about gender norms with a student from Algeria. She learned that in the Middle East, it is considered unacceptable for a boy to hug a girl unless related by blood or through marriage, and violating this rule results in public shame and disdain. In contrast, hugging and physical forms of affection with friends is an intrinsic and natural part of greetings in the United States. It is clear that programs like TED give ample opportunity to openly express and learn about cultural norms while also educating others on different customs and misconceptions people hold in one's own country. While participants are not physically in any of those countries, the online space is still highly conducive to exchange and even productive conflict, all while keeping members in the comfort of their own homes.
Through the virtual learning experience, students have also been able to discuss COVID-19 restrictions, virtual school, holidays and personal favorites prompted by teachers. The Global Civic Obligation Initiative connects students of the Facing History and Ourselves class with other students around the world. Each class is divided into groups of four BLS students, who are then paired with up to ten international students using Whatsapp and e-mail as a form of informal conversation.
So far, Facing History students have been able to meet high school students in countries ranging from Belarus to Vietnam and have learned about different types of schools, forms of government and responses to the pandemic in each country.
Rachel Roncka (II) observes, "One thing that stood out to me from our discussions was that a lot of countries seem to be enforcing much stricter rules about the pandemic. […] One of our partners, Zeynep, told us that in Turkey you can get fined for not wearing a mask; meanwhile, here in the U.S. we have people protesting mask mandates." Conversations like these foster important exchanges and help put the world into perspective. It demonstrates how culture and society can have a great impact on the regulations and politics of a country.
Roncka also heard that, "groups got into arguments over topics like reproductive rights." Through meeting people so geographically distant from us, disagreements like this are bound to happen. With all the social and cultural differences between countries, it is often very difficult to have these discussions knowing people have such different views on an issue that is so important. Mr. Thomas Kennelly, a BLS history teacher, who discovered various virtual exchange programs for students, reflects, "When people are raised in different countries and cultures, they will have different ideas and opinions. It is important to have these conversations whether people agree or disagree with one another." Interacting with people who live in a vastly different environment with different opinions is crucial to our understanding of global issues and our distinctions; while clashes like these can be uncomfortable, there is much that can be gained through them.
Although virtual exchange programs have become increasingly popular during the pandemic, there are still many aspects of the in-person experience that cannot be felt virtually. When exchange programs are online, it is difficult to capture the beauty of interacting with the language, culture, food and environment of these countries. Nonetheless, the goal of these virtual programs is simply to broaden global understanding, and in this field, they are undoubtedly successful. They are not high-commitment, and there is never a financial expense or physical risk in joining these conversations. Even through digital mediums like messaging apps, students are able to make lifelong friendships and learn a great deal more about these cultures than what history textbooks can provide.The-Experiment-Digital-2019-Flyer