BLS' Got (Dance) Talent
March 26, 2020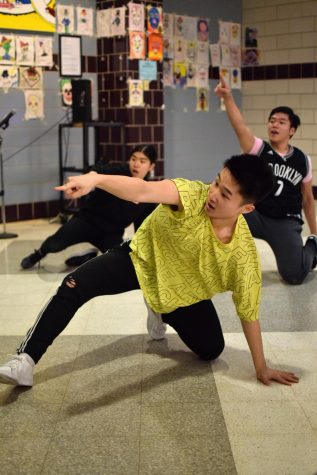 In the hectic life of a Boston Latin School student, one may wonder what one might do to relieve the stress. BLS dance clubs such as Koreo, B-Boy and Desi, offer respite for some. If you stick around long enough after school on a Monday, you will undoubtedly hear strains of rap and pop music coming from the Dining Hall. There, B-Boy will practice its breaking (not breakdancing) routine for its next dance show. Meanwhile, Koreo will host a session to complete their next performance to K-pop, while Desi Society will work on its own Bollywood choreography in room 134 for an upcoming Asian Students in Action (A.S.I.A.) Event.
Since 2010, dance clubs have provided a creative outlet for those with an artistic flair, and those who want a chance to bond with a committed group of dancers. Alan Kuang (I), an avid dancer, first joined B-Boy in sixie year. He says he initially joined because "it just provided a really comfortable environment for people to just hang out […] almost like a family." This message is reflected in the B-Boy motto: "Ohana means family, and family means no one gets left behind or forgotten." Five years later, the club has expanded and now performs at colleges such as Northeastern University and Boston University and events in Chinatown. Alicia Yu (II), another B-Boy officer, has also been part of the club since seventh grade and remembers being taught the steps by the then seniors. Today, she fills that role and recognizes the responsibility of her position. "I can cultivate [the new members], I can help guide their passion […] or just help them destress; I can see myself in them." The club has no formal choreography, instead being what Kuang describes as "freestyling mixed with collaborating."
Not only do dance clubs perform breaking, but they also have a thriving K-pop sector, better known as Koreo. Koreo officer Gwun Yi Wong (II), explains that from about five years old, she was obsessed with "Just Dance," and through that video game, she developed her love of dance. Koreo meets weekly throughout the year to prepare routines for Asian Night, and up to three times a week in the time leading up to the performance. Wong reflects on the diversity of moves in dance, how "[w]ith dance you can rip your heart out on the floor or just jump […] around." She explains that although she "can't define it," dance has provided her with a necessary outlet for pent-up energy.
Desi Society is a student organization focused on educating members about culture in southern Asia. Besides hosting events such as movie nights and henna weeks, they also perform Bollywood dances for Asian Night. Although they usually meet Mondays, in the days leading up to their next show, when "the panic sets in," in the words of co-president Claer Jestin (II), their practices become almost daily. Punnya Kalapurakkel (II), who is co-president along with Jestin, says, "You put on many versions of yourself, and dance was a way for me to shed all of those skins, and just express who I am […] Doing Bollywood, and also exploring other styles, I was able to realize and remember the value it had in letting me express myself and any version of myself that I wanted." Similar to Kalapurakkel's experience, Jestin sees dance as "a great way to get out the anger, the frustration, the stress, but you can also enjoy it and be present in the moment of the flow, so it's a release." Kalapurakkel says, "I felt the initiative to do Asian Night, so that's when I choreographed and taught the dances, which was a complete evolution" from her start of learning the dances from upperclassmen as a sixie.
Performers such as James O'Gilvie (I) also dance at cultural events for clubs like BLS B.L.A.C.K. (Black Leaders Aspiring For Change and Knowledge), and he reflects that dance to him "means moving in stillness being loud without having to speak forcefully without aggression, [that it] is a bunch of polar opposites that come together through the power of oneself."
While there are undoubtedly many more talented dancers who walk the halls of BLS, these clubs are just a diverse sample of the talent and passion that our dancers have.