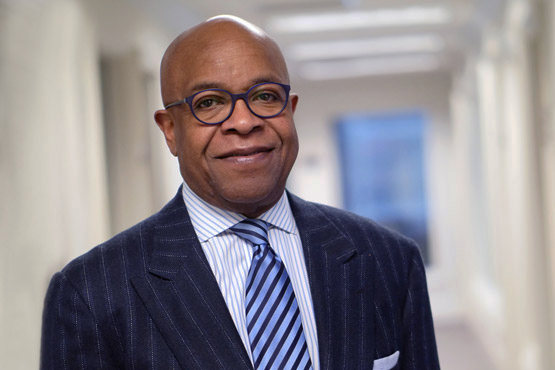 Peter Bynoe ('68)
Since graduating from Boston Latin School in 1968, Peter Bynoe has become a successful businessman and attorney. Bynoe earned three degrees from Harvard University and was part owner of the Denver Nuggets. In honor of these exceptional achievements and other recognitions, the Crain's Chicago Business named him on their 2013 list of "Who's Who in Chicago Business," and in 2008, he became one of six recipients of the Harvard Alumni Association Award.
The Argo: When and why did you decide to pursue your current career path?
Bynoe: I never had a career plan. I just wanted to be the best that I could be. I have focused on preparing myself through education and work experience to be able to take advantage of opportunities as they have been presented to me. Fortunately, I have been offered a wide range of unique and exciting opportunities.
A: Looking back, what would you say is the most important lesson you've learned in your life, or in your career?
B: Trust but verify. People may mislead you intentionally or unintentionally, but the real metrics never lie.
A: What is something at BLS that you enjoyed being a part of and why?
B: I enjoyed playing Varsity Football and beating Boston English four years in a row. I was Game MVP in my senior year.
A: What was your favorite class at BLS and why?
B: History, as taught by Mr. Kenneth Johnson, my first African American teacher. He taught us that of all our studies, history rewards us best.
A: What is one piece of advice that you would give to a student at BLS?
B: Absorb and enjoy every element of your high school experience. Life will only get more difficult and complicated once you graduate. You owe it to yourself and your parents to take full advantage of the unique Boston Latin School education, inside and outside the classroom.