Are Esports Helpful or Harmful to the World of Sports?
March 27, 2023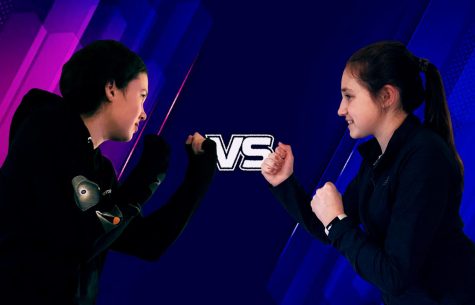 Yes, Esports are Helpful to the World of Sports
Sports video games have been popular ever since their invention. Take hockey, for example: NHL Hockey was released in 1991 by EA Sports, and the games have remained a popular choice for sports enthusiasts. These video games, because of their widespread nature and universal offerings, have had a tremendous positive effect on the world of sports.
Electronic sports, or esports, inform people who are unfamiliar with various sports and how each sport is played. Harry White (II) is one of those who have benefitted from the flexible and explorative structure of this sports media. He "didn't know a lot of the basketball rules when [he] started playing NBA 2K," and reflects that the game made him want to learn more. He ultimately figured out the rules and is now an avid watcher of basketball, specifically the Boston Celtics.
History and economics teacher Mr. Patrick Boor had a similar experience, as he previously played the soccer game FIFA and "learned a lot about the team rosters and all the teams in each league."
Not only are esports informative, but they also encourage interest in the sport. People will buy these video games because they want to play with their friends or try them out. While playing the games, people realize that they find the sport interesting. They then end up watching and possibly even attending sports events.
Mr. Boor has experienced this phenomenon: "The FIFA video games are a major reason why I started getting into watching the English Premier League and La Liga [the professional soccer league in Spain]." Mr. Boor found his love of soccer all because he played FIFA with his friends in high school and in college.
Electronic sports build communities, inform its players and garner interest. Communities are a vital component of the sports world. Where would we be without bonding with friends, and even strangers, over a game or match? What would life be like without championship parades? Video games form a strong connection that brings people together.
This human connection was especially vital during the pandemic, when friends could not see each other in person. Video games allowed people to connect while keeping each other safe, and yet again fostered growth and community without an otherwise disconnected group of people. While sports video games will always have naysayers, their positives certainly outweigh the negatives, and they enhance the sports world.
Leave a Comment
No, Esports are Harmful to the World of Sports
Competitive esports, or electronic sports, can be viewed as insignificant compared to the rest of competitive sporting, yet they still damage the world of sports as a whole. Most sports fans and players, especially those from older generations, prefer physical sports, but if future generations are conditioned to compete and engage in esports, they will lack the same love for these sports. Thus, the existence and rise of esports only prevents the hard-earned legacies of physical sports from living on.
While esports may appear fun and amusing, they do not embody the foundational philosophy of putting both physical and mental dedication into a game, unlike athletic sports. With the rise of media and technology, the temptations of the less physically demanding option of esports can be largely influential.
The differences between the physical abilities of esports players and traditional sports players are drastic. Boston Latin School English and humanities teacher Mr. Peter Sullivan voices his thoughts, saying, "For the players, I do think that of course it is different, as real sports for the participants involves a mind-body dynamic that takes virtues like courage, moderation, etc. […] The fact that they are actually real people would seem to change something."
He also notes that the lack of any real change for the larger group of spectators may be where a shift toward esports stemmed from. If the spectators watching the game find the same level of enjoyment in either form of sporting, people may begin to contemplate the point of players pushing themselves physically, while esports players face almost zero chance of getting injured.
The physical factor of athletic sports can be difficult to work with, but it can come with a true reward. BLS Koreo member Nabayit Fassil (IV) reflects, "Esports take away time to interact in person and develop healthy habits." After spending a considerable amount of time dancing with Koreo, she says that she enjoys the challenge of "pure activity and exercise."
Although athletic sports are greatly valued by some, others who deem online gaming a better medium to play sports can depreciate the values that physical sports have imparted through generations of athletes.
Esports are completely changing the workings within the world of sports and becoming harmful to the traditional sports that most of the world are familiar with.It is detrimental to allow esports to fill the place of sports like soccer, basketball or tennis in the newly modernized generation.
Leave a Comment