Should the End Goal of High School Sports Be to Win?
June 19, 2022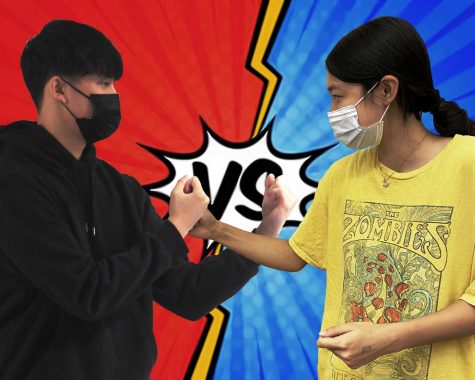 Yes, It Should Be to Win
Every high school dedicates considerable time and resources to propel its sports teams forward. What is the purpose of this? The answer is simple: to win. High school sports allow students to become physically active and attain lifelong lessons to use in the real world. There are those who play to have fun, others who play to stay fit, and more often, there are high schoolers who play sports to compete and even plan to continue playing after high school.
High school sports are an opportunity for those who want to play and compete as a teenager. If the main and end goal of sports is not to win, what else would it be? During sports competitions, the main thought plaguing every athlete's mind is whether they will win.
"I think the whole point of sports is to win. Winning is fun, so I guess the fun can be tied in there. It's never fun to lose. For me, after a soccer or volleyball game, if I've lost, then it makes me work harder and try to get better at the sport. But the whole reason I do that is so I don't lose again," explains Jeremiah Harris (II).
Playing sports with the goal of winning also motivates players to perform better. If an athlete and their teammates lose against another team, the team only feels more driven to train and try harder in the next game they play. In turn, they would feel a greater thirst to win the next chance they get.
"I think high school sports should be played to win because it brings more confidence to the players and the team as a whole. More specifically, within the [Dual County League (DCL)], there is a lot of competition and winning gives [Boston Latin School] a good reputation. I play softball, and it feels even better beating a team that we've had a long-time rivalry with or one we've lost against too often," says Julia Dalmanieras (II).
Especially in these bigger competitions, such as the DCL finals, student-athletes face greater challenges as they clash with opposing teams. They feel more satisfied with the sense of achievement and pride when winning, knowing that all the hard work they have put in has paid off.
In addition, the motivating goal of winning leads to a stronger benefactor to athletes and their communities. If the team were to win often, it could increase opportunities for community programs to further train young athletes with necessary physical, athletic and mental skills in order to play in bigger leagues.
Winning games ultimately builds an athlete's reputation of themselves and the schools they play for, bringing an added factor of competitiveness and attraction to sports at the high school level. Dalmanieras adds, "I don't think anybody likes to lose, and winning as a team after a lot of practice makes that win more than just an addition to our record."
Winning trophies, awards and overall recognition is the most sought-after benefit of winning. In order to obtain these honors, athletes must endure intense training sessions and persevere through tense games.
High school sports represent only the beginning of realizing how important winning can be when playing competitively. Drive is an important attribute for young teenagers, and their athletic performance increases their harnessing of this skill, which will surely be useful in future prospects.
Having a team and community that tries their best to strive for victory is a virtue that is acknowledged by all the athletes in the world, no matter what athletic background one comes from.
Leave a Comment
No, It Should Not Be to Win
For every athlete, a win will never come without a few losses. In high school sports especially, this is often the case. Teenagers, especially at competitive schools.have a lot of school work, and not everyone is tunneled in on a professional sports career. With this in mind, it is crucial for teenage athletes to know that their ultimate purpose in playing high school sports is not to win, but rather to gain experiences and knowledge that cannot be attained from academic settings.
While many might hope for an undefeated season, the reality is that if one team wins, the other has to lose. So, is that it? If a team loses, does it mean that their performance is deemed useless? While losing might be disappointing, it does not detract from the unforgettable memories made along the way. Although every athlete hopes to win, playing high school sports comes with rewards that transcend just victory.
Especially before becoming an adult, high school students have the opportunity to experience their youth to its fullest. For example, Boston Latin School sports teams maintain many fun traditions during the year, especially ones that promote team bonding. Various teams dress up on game day, exchange spirit bags and some even get matching haircuts. In spending so much time together outside of school, teenage athletes gain the opportunity to connect with people that share the same interests as them.
Thus, through playing high school sports, athletes create lasting friendships and feel greater connections to their school. Rachel Starr (IV), a member of both the varsity track and soccer team, expresses that "playing sports has made me feel like more of a member of the community. Getting waves from kids of any grade in the hallway […] and knowing that I'm part of the Wolfpack pride makes me more positive throughout the year."
In addition, people who exercise more generally have better mental health. "I know that I always feel better after a practice because I am able to release some stress for a few hours by exercising with my teammates," says varsity crew member Sophia Lange (III).
Athletes can also learn essential life skills, as sports teach adolescents lessons of perseverance, healthy exercise,eating habits and how to act in the face of unexpected outcomes. These three significant goals of high school sports — forming friendships, deepening connections to the school community and improving overall health — prove that winning is of lower importance on the ladder of priorities.
Competition and the honing of athletic skills are large aspects of high school sports, but these factors can become harmful when too intense. An athlete whose mindset is solely focused on towards winning can create dissatisfaction with a teammate's performance or self-performance. Athletes who are bitter at the outcomes of their sporting events could take their frustration out on their teammates, making their teammates feel bad about themselves.
"The longer I coach, the more I believe that the mental or psychological aspect is the most important element to team success in high school sports," remarks Jon Rudzinski, the head coach of the BLS girls' varsity soccer team. His insight on the importance of self-confidence in sports goes to show that high expectations to win can ultimately be harmful.
Starr explains, "I view the experience of the games, practices and the progress each time as more important than a win, but when those work together to create a win, it does motivate me to keep putting in the work."
Ultimately, high school student-athletes should focus on their own improvement and compete with themselves rather than getting caught up in beating the other team. While athletes cannot control the ability of others, the one thing they can control is their own ability. 
Rudzinski says, "Certainly at the high school level, sports are meant to be competitive, and winning is a component of that, but 'fun' transcends winning. In the high school context, I believe that 'fun' involves players challenging themselves to compete at a high level at an activity that they inherently love. That's fun! Winning is 'bonus fun.'"
Leave a Comment