Michelle Wu Lays Out Her Plan for Boston Schools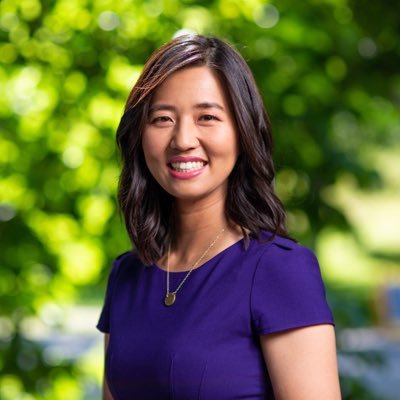 Last Saturday, Boston City Councilor and 2021 mayoral candidate Michelle Wu fielded questions about the topics of BPS exam school admissions and policing within schools during a student press conference.
During the press conference, Wu covered her ambitious agenda which included enacting a City Green New Deal, ensuring fair and affordable housing, delivering funding and resources to create more equitable schools, and demilitarizing the police department. Grounded in activism and community building, her campaign aims to better connect the city's leadership with the people.
Wu spoke in support of the controversial change of eliminating the entrance exam to the city's three exam schools for a year, explaining that it was the only way to ensure safety and racial equity during the pandemic. As a mother of two kids in the Boston Public Schools (BPS) system, she states, "We see the diversity of Boston reflected in our elementary school classrooms and then not at all in classrooms at Boston Latin School."
Wu added that long-term equity in access would require not only continued discussion regarding exam school admissions but also attempting to aid underfunded high schools across the district. She described her experience visiting every BPS high school before the pandemic as heartbreaking and cautioned against focusing too many resources and political capital solely on three well-funded and well-resourced exam schools.
"We're talking about a relatively small amount of students there compared to… schools with little to no resources and social-emotional support, with crumbling facilities, unhealthy conditions, water fountains that don't work, and windows that don't open all the way. And much of that is on the shoulders of residents who can least afford and are least responsible for these disparities," explains Wu.
Councilor Wu also expressed concerns about maintaining police officers in schools amidst national and local discussions regarding racial justice and police brutality. She cites how city residents and students have told her how having officers in school buildings "creates a dynamic not focused on a nurturing, supportive environment." Instead, she believes there are other ways, such as creating a community safety task force, to ensure the wellbeing of classrooms.
During the conference, Wu admitted to the lack of money available for funding all of her proposals while emphasizing the urgency of the issues throughout the city. Other Boston residents, including BLS students, are also wary of this issue. Levi Mattison (I) states, "I'm wary of some of Ms. Wu's policy proposals, as I believe in some cases, they may be too ambitious."
Wu connected with BLS students as a guest speaker during this year's Massachusetts Junior Classical League (JCL) Classics Day. As former president of the National JCL, Wu described how her experiences within that organization helped to prepare her for a career in politics. 
BLS Latin teacher Ms. Tamara Bauer recalls Wu's leadership during the 2002 convention, adding, "There were a lot of extra activities and speakers, so she must have had a lot of work preparing for the week. She had great poise and presence in her role as president."
 Wu will run against incumbent Mayor Marty Walsh and fellow City Councilor Andrea Campbell in 2021. If elected next year, Wu, as the daughter of Taiwanese immigrants, would become the first woman of color to hold the office of mayor in Boston. Taiwanese-American student Alex Chou (II) concludes, "It's refreshing to see a face like mine in city government and reassuring to know that people like me are being represented in politics."